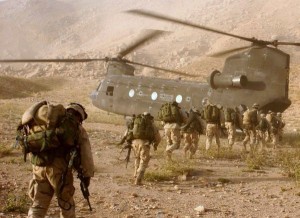 "In a delicate discussion with an Army Ranger who recently left the military, we heard the following: "I had to get out. I have a family who needs me. I didn't join to be sacrificed. I joined to fight."
"This decision came shortly after he lost a close friend to the ROE (Rules of Engagement). He explained how the Taliban had attempted an ambush on his friend's squad but quickly realized they were in a battle they couldn't win and began retreating. While chasing them, the U.S. soldiers were ordered not to engage due to the slight chance the Taliban had laid down their arms as they ran through some type of shack. While arguing with leadership at the JOC (Joint Operations Center), his friend was shot and killed."
This story is being told all too frequently in military circles.
Story here.
"In the first seven plus years of war in Afghanistan (October 2001 – December 2008) we lost 630 U.S. soldiers. In early 2009, this administration authorized the implementation of the COIN strategy. Over the next five years, the U.S. death toll skyrocketed to 2,292."
COIN – the failed Counterinsurgency strategy also known as "winning the hearts and minds of the enemy." This and "our government's incessant tightening of already restrictive ROE (Rules of Engagement), have made an otherwise primitive enemy formidable."
The Obama Administration is telling our young men to win a war with their hands tied behind their backs. Slaughtering them. Unbelievable. Our Commander-in-Chief is aiding and abetting the enemy. Impeach Obama.
"Seventy-three percent of all U.S. deaths in Afghanistan have taken place since 2009."
"In the first seven plus years of war in Afghanistan, 2,638 U.S. soldiers were wounded in action. In the next forty-five months (2009 – 2012) an additional 15,036 suffered the same fate."
Excerpts are from an article written by: Billy and Karen Vaughn who are Gold Star parents of Special Operations Chief (SEAL) Aaron Vaughn, KIA 6 Aug 2011. Billy is the author of "Betrayed: The Shocking True Story of Extortion 17." Read more or schedule the Vaughns for a speaking event at http://www.forourson.us.
Related article here about our troops being at greater risk since Obama's new Rules of Engagement.
It mentions the situation under investigation where Aaron Vaughn was needlessly killed…"the Afghan Taliban's downing of a CH-47 Chinook helicopter last year that killed 30 U.S. troops, including 17 members of SEAL Team 6. The report notes service members' frustration at seeing people they knew were Taliban fighters during the August 2012 operation in Afghanistan's Tangi Valley, but they were denied permission to shoot."