I highly recommend this deep, rich, fascinating study of the book of Revelation by Chuck Missler. His passion for the Bible is contagious as he points out that its 66 books penned by over 40 authors over thousands of years, "is an integrated message system, and I don't mean thematically, every detail, every number, every place mark, even the mathematical structures underneath the text, exhibit very skillful design, and that design had to emerge from outside space/time because it anticipates things before they happen, in structure as well as content….the Old Testament is the account of a nation, the New Testament is the account of a man. The Creator became a man. His appearance is the central event of all history… The crucifixion was not a tragedy, it was an achievement. Dozens and dozens of prophecies were fulfilled on that one day, that were written centuries before. He died to purchase us, and is alive now. The most exalted privilege is to know Him. That's what the Bible is all about."
"The Bible is an integrated whole. Every detail is there by design. Nothing is trivial. All things are there for our learning…The Old Testament has 1,845 references to Christ's rule on earth, 318 in New Testament." We tend to have linear presumption, meaning everything will stay as it is, but things will not stay the same forever.
Old Testament is Christ in Prophecy
Gospels are Christ in History
Acts are Christ in the Church
Epistles are Christ in Experience
Apocalypse is Christ in Coming Glory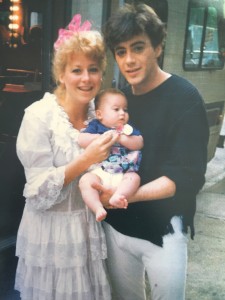 Robert Downey seems to be a Chuck Missler fan too! I guess being talented and being interested in the Bible aren't mutually exclusive! I was very lucky to get to work with Downey in the movie "The Pickup Artist" back in the 80's! This is us on the set in NY with my daughter Scarlet who is now 29 and a mother of two!