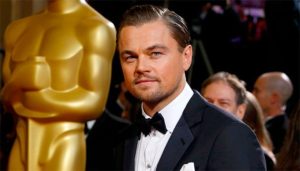 Leonardo DiCaprio's Oscar acceptance speech last night – "…making The Revenant was about the relationship between man and nature … climate change is real…it's happening right now, the most urgent threat affecting our entire species… even affected the shoot of "The Revenant"…our production needed to move to the southern tip of this planet just to find snow…we need to support leaders around the world who speak for all of humanity and not those focused on greed…I thank you all for this amazing award tonight. Let us not take this planet for granted."
Leo – there is no scientific evidence that humans cause "global warming/climate change." Do some research.
Read "The Greatest Hoax" by Senator Inhofe.
Marxists are using this lie to "spread the wealth" globally.
Watch this video on how the whole global warming lie began…
P.S. Brie Larson was FANTASTIC in the movie "Room" and deserved the Oscar and her acceptance speech was so humble and gracious. She is truly a star.