It's not always the case that telling your own story is more truthful, or more personal, than having someone else tell it. We don't always see ourselves accurately, and we tend to hide our own shame. Victoria Jackson's Is My Bow Too Big? is a rare example of autobiography the way it could and should be — nuanced, intimate, poignant, and compelling.
Ever wonder: What's it like working on Saturday Night Live? What's it like to be a Baptist virgin hanging out at the Playboy mansion? What's it like to be a conservative in Hollywood? How did Victoria Jackson go from being a limber "airhead" on SNL to the Tea Party Princess?
No one knows more about what it's like to be Victoria Jackson in all the various roles she has played than Victoria Jackson herself. And in this book, Victoria doesn't hold the reader at a safe distance. She doesn't just tell you about her life … she invites you inside it.
ISBN: 978-1-4675-0256-6
Page count: 207 pages
Hardcover with Dust Jacket
Retail price: $24.95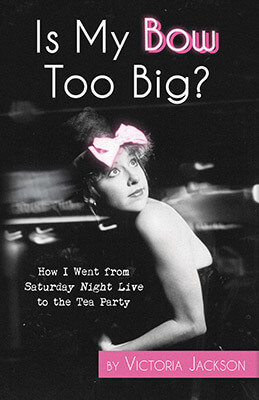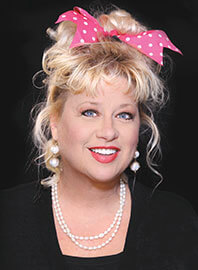 About The Author
Born in 1959, Victoria Jackson grew up in a Bible-believing, piano-playing, TV-free home in Miami. Her father coached gym, and she became a talented gymnast, even acquiring a college scholarship to Furman University.
When Johnny Crawford (The Rifleman) met her at a summer stock production, he encouraged her to pursue acting and bought her a one-way ticket to Hollywood. For two years, she held odd jobs in the show-biz capital — as a cigarette girl, waitress, and even typist — until Johnny Carson noticed her stand-up routine and put her on The Tonight Show … twenty times. After that, she starred in many movies and TV shows, most notably six seasons on Saturday Night Live.
"You play this airhead on Saturday Night Live. I read a large part of your book and this book is really well-written. I don't buy the airhead act. I don't think that's who you really are." Alan Colmes, September 2012
"She is wafting, blondly, through her tiny Manhattan apartment, and there's a hint in the air of one of the wacky songs she's prone to write: You think you can label me, but don't you dare, 'cause I am not a bimbo. She isn't of course, not by a mile. But Victoria Jackson is a little airy. She's also funny, direct … one of the most engaging bubbles of talent to effervesce on the revitalized SNL since Jon Lovitz first saw Morgan Fairchild naked." People Magazine, 1988
"My wife and I LOVED your book. Even more, we think the work you've done and the unshakable person you are, and what you've overcome, makes you one terrific AMERICAN. Our best wishes for you and family in all future endeavors." Terry
"She's Christian, she's conservative, and she's not afraid to go toe to toe with anyone holding a liberal point of view—from national talk-show hosts like Joy Behar and Alan Colmes to people on the street." Tribune-Review, October 2012
"Comedian Victoria Jackson looks every inch the sweet, innocent ditz. But don't let that fool you. She's a smart, savvy, seasoned pro who honed her craft on SNL, then dropped off the fast track to hit the mommy track. She's back, and better than ever, with a wealth of new material to add to her stand-up routine. She's headlining four shows this weekend at Penguins Comedy Club and had the capacity crowd in the palm of her hand at last night's premiere." The Iowa Gazette, 2000
"Former Saturday Night Live (SNL) cast-member Victoria Jackson isn't shy about sharing her views on a plethora of social and political issues." THE BLAZE, October 2012
"But the best part of the series … is former Saturday Night Live cast member Victoria Jackson, who plays Mrs. Rogers, the family's absent-minded but everlovable nanny. Jackson has a spirit that practically glides on its own and gives the series a sprightly quality that's distinctive." Hollywood Reporter, 2003
"Victoria Jackson's book Is My Bow Too Big? … I'm going to read. I'm fascinated." Howard Stern, October 2012