A BIG Thank you to all the doctors, nurses and technicians whose loving care, kindness and beautiful faces and hearts I'll never forget! I asked the sweetheart technicians if I could take a photo with them. As I was leaving, Vicki the awesome nurse handed me my Certification of Completion of Radiation. I started to cry. She said, "You deserve to cry, you've been through a lot. Some people even have their friends and family with balloons in the lobby celebrating with them." I look sadly at the ground. My family wasn't there. Then, I opened the door to leave and there they were – my precious family full of love and joy! They surprised me! God is good!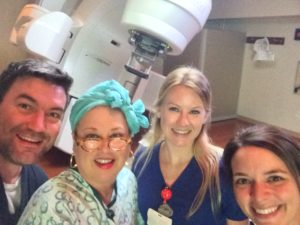 Beautiful Josh, Brittany and Jill taking good care of me – see that big radiation machine in the back!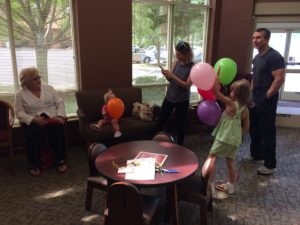 My family surprising me in the lobby!