On August 2, 2016 I had just finished cancer treatment and my bald head was sprouting in gray! At my birthday party, embarrassed about my looks, I mentioned my hair and my friend Judy, who always pours love into every situation, exclaimed, "It's not gray, it looks lavender!" I could see Husband out of the corner of my eye agreeing with her, "Yeah, it's lavender! It's lavender!" He wanted me to feel pretty. So,I wrote this song. I titled my new book about my cancer journey, "Lavender Hair," after the song. The book is available now on Amazon. Link here.
Don't miss The Book Launch Party Show at Zanies Nashville October 8, 2017. Proceeds go to the Breast Cancer Research Foundation. BCRF gives 88% of its donations to actual cancer research.That's why we chose them.
https://www.facebook.com/WilliamsonSource/videos/1466612960086370/
Video by Donna Wissman from Williamson Source
To get tickets to the Big Show October 8, 2017 Zanies Nashville go here. I'll be doing my stand up routine and the talented friends joining me include Grammy winner Michele Pillar, Debi Selby, Award-Winning 'Point of Grace's' Leigh Capallino, Doug Allen, Jimmy Mack, Paul Aldrich, William Woody and 99.7 FM's own Michael DelGiorno. Lots of fun! Music and comedy!
I just recorded this homemade version of "Lavender Hair" today, August 15, 2017. (I look a bit somber because Husband was filming and he didn't want to. He was rushing me so he could get to the gym!) It's been a year since my cancer treatment ended, 33 radiations and 5 months of chemo. My hair grew back in gray, thus the song, but then it turned brown again. I'm blonde now. I winced when I put the poisonous chemicals on my head. They should do some scientific studies and see if hair dye causes cancer.
The version of "Lavender Hair" below was recorded by Gabe and Mandy McCauley in October, 2016. Hair just growing back in.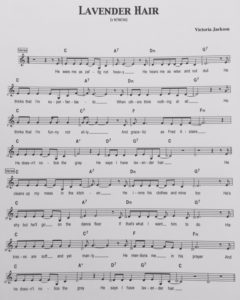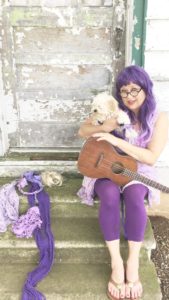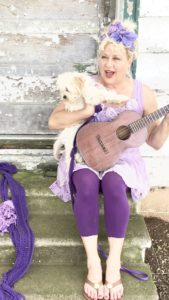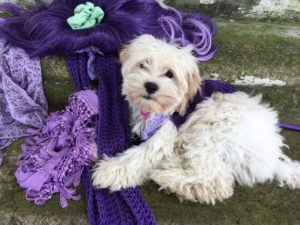 (New Puppy Hezekiah at Photo Shoot for my new album)