Ukelele Lady (Ukulele can be spelled either way), is a collection of comforting and endearing songs from Victoria's childhood including originals like "When the Cat's Away" by Will Ryan and standards like "When the Red, Red Robin," "You Are My Sunshine," "The Best Things in Life are Free," "Daddy's Little Girl," and "Inchworm," where Victoria's husband and daughters chime in. The arrangements by Charlotte Landsberg of Choo Choo Records are lush and brilliant with a zing of Vicki's personality injected into to the mix.
Click Here to Purchase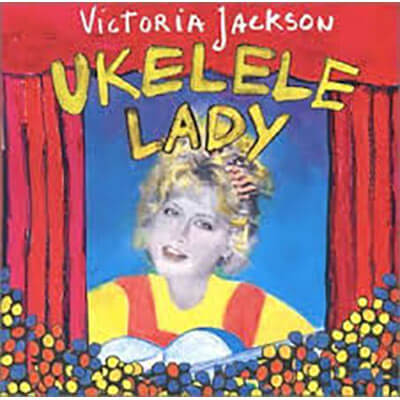 "I bought this because we heard The Riddle Song on Pandora, and I loved when Victoria Jackson used to sing on SNL. Remember "I am not a Bimbo?" Hilarious. Her singing voice isn't classically beautiful, but the songs are charming and a fun change from the tradition songs that are done and redone over and over on lots of children's CDs. We're enjoying this CD."
"Victoria Jackson is great in The Ukelele Lady! With some songs very upbeat and some decidely more gentle, Victoria sings her way into your heart with her wonderful quavery and expressive voice. I highly recommend this one for yourself as well as your children. The songs are old-fashioned, but are still great and catchy tunes. I enjoyed this CD very, very much. I played it for a friend over coffee and she loved it , too. A+++++"