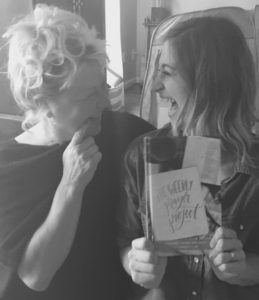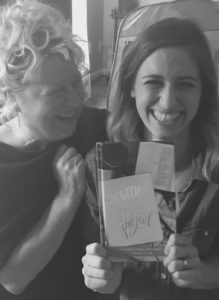 I'm so proud of my daughter Scarlet whose first book is being published and available July 4! And, it's a book about God! How awesome!
It was brought to the attention of Harper Collins by a beautiful woman named Katie, that a Pasadena-born, NY/Miami-raised, Tennessee stay-at-home mom, who was named after a color in the Bible, Scarlet, and after the romantic lead in Gone With the Wind, was writing a blog – link here.
Harper Collins then assigned Scarlet Hiltibidal the task of writing "The Weekly Prayer Project". It happened to be the same year I was writing about my breast cancer journey and my whole family was praying even more than we usually do, which is a lot. We believe in prayer. It's simply talking to God, but it's so much more powerful than that because it's talking to GOD! And, He loves us and listens and answers. Journaling your prayers is a great way to watch them get answered, as you flip back and see the miraculous way He takes care of us, always in a different and grander and more holy way than we could have imagined.
My new book, "Lavender Hair," (out in Oct. 2017) came to be published in a totally different way. I was meeting my friend Debi Selby at the Frothy Monkey and her friend Michele Pillar, the famous Christian singer was standing there talking with her, and we met. Michele had just written a memoir for Broadstreet, "Untangled." She asked me to read it and write a blurb, I had 2 days. I happily read it late into the night because it was so interesting, real and inspiring. I wrote a rave review. And that's how I met Broadstreet who is publishing my book.
(The cover photo of my book happened when I was recognized in the parking lot at Target by a photographer and his family. Brandon Wood had me come to his studio and do some shots "just for fun." This was right before my cancer diagnosis, so there is cancer in my chest in the photo! Thanks to the Lord and the great doctors and nurses at Vanderbilt Breast Clinic there is no cancer in my chest today!)
To buy Scarlet's book, "The Weekly Prayer Journal" go here.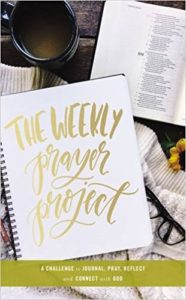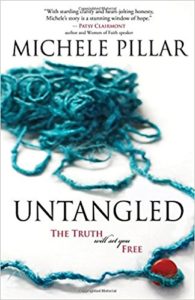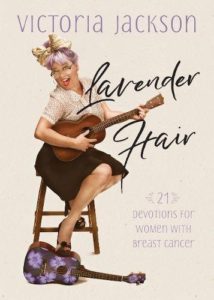 P.S. Oct. 8, 2017 a Live Event at Zanies Nashville – a fundraiser for cancer research with Susan G. Komen and a book launch party! Info here!