8 Chemos down, 8 to go… but who's counting?
"The promise is not I (God) will put out the fire. The promise is I will be with you in the flames." – @howertonjosh @TheBridgeSH
Here is a fantastic sermon, "God in the Fire" by Josh Howerton from The Bridge Church. It's about pain, suffering and God. (http://bridgesh.com/media/podcast/20160313.mp3)
In Daniel 3, when Shadrach, Meshach, and Abednego were thrown into the fiery furnace, "… King Nebuchadnezzar was astonished; and he rose in haste and spoke, saying to his counselors, "Did we not cast three men bound into the midst of the fire?"
"They answered and said to the king, "True, O king."
"Look!" he answered, "I see four men loose, walking in the midst of the fire; and they are not hurt, and the form of the fourth is like the Son of God."
Life is difficult and we all will experience some tough trials. I am in chemotherapy for breast cancer right now, and bald. (Thus, the wig). This sermon really touched me, especially at this time. I'm going through a test. God allowed me to get cancer. But, He is walking through it with me. And actually, me and the Lord are having a grand time.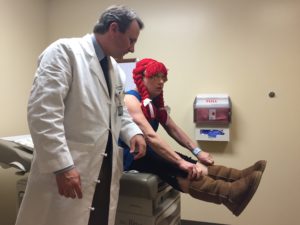 When my smart, funny, handsome oncologist took out his stethoscope, he said, "Let's see if Raggedy Ann is breathing." I love him.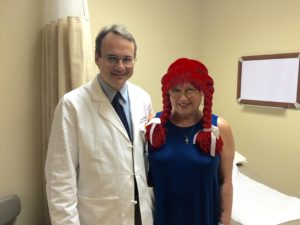 My doctor is patient with my shenanigans!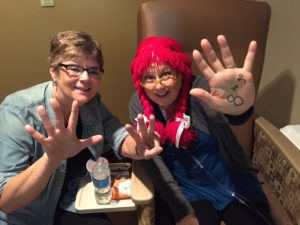 My dear friend Patty celebrating with me that 8 are done and only 8 to go.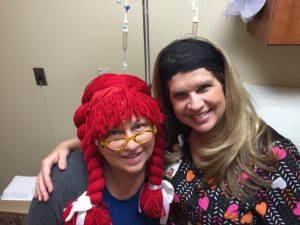 My beautiful, kind, professional, smart, loving chemo nurse that I adore. (Her hair looks like a wig, it's so luxurious. But, it's real!)