Me and my grand daughter Ever Grace, age 4, singing a piece of my new song, "A Happy Ending."
It all happened pretty suddenly. I went to the Walk In Clinic for a cough. I asked the Nurse Practitioner if the numb spot near my underarm was my lymph gland fighting the cough. He quickly sent me to the Vanderbilt Breast Clinic, (God bless him), an awesome place full of great people. Suddenly, I was in surgery (double mastectomy) and soon I'll be beginning chemo I'm told. They say my hair will probably fall out. I'm Stage 3A. The funny thing is I've never felt healthier. There are no symptoms. I held a handstand two weeks ago for a Lil Dragon Production.
3 women in my Community Bible Study group encouraged me by telling me their stories. They survived this. A friend at church, Debi, just went through the same thing and is cancer free. The beautiful singer, Joey (JoeyandRory.com) is not doing well. But, she knows the Lord, so she has a happy ending too. You must see this song she wrote in 2012.
Cancer is a horrible word. But, let me tell you, as a Jesus follower, this has strangely been a blessing to my family and made us much closer to each other and to God.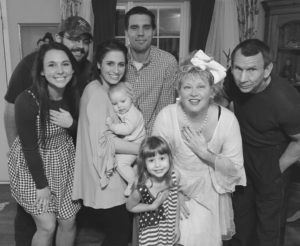 God's Word encourages me no matter what the outcome;
Romans 8:28, "All things work together for good to them…", James 1:2, "Count it all joy when you fall into various trials…", Isaiah 61:3, "…beauty for ashes," John 11:4, "… Jesus said, "This sickness…is for God's glory so that God's Son may be glorified through it," Luke 22:42 "…not my will, but yours be done," 2 Cor 4:16-17 "This is the reason we never lose heart. The outward man does indeed suffer wear and tear, but every day the inward man receives fresh strength..," 1 Pet 1:6-7 "This means tremendous joy to you, even though at present you may be temporarily harassed by all kinds of trials. This is no accident–it happens to prove your faith, which is infinitely more valuable than gold, and gold, as you know, even though it is ultimately perishable, must be purified by fire," John 9:2-3 "His disciples asked him, "Rabbi, who sinned, this man or his parents, that he was born blind?" "Neither this man nor his parents sinned," said Jesus, "but this happened so that the work of God might be displayed in his life."
As I sat in the waiting room, that first day of this new "journey," this verse popped out at me from my devotional, Psalm 42:11;
"Why art thou cast down, O my soul? Why art thou disquieted within me? Hope in God: for I shall yet praise him, the health of my countenance, and my God."
So, I put that together with some other verses and wrote a song called, "A Happy Ending."
Whether I live a few more years or not, God promises us a really happy ending to this brief, trouble filled life on earth.
What did I do wrong to deserve this cancer? Everything!
And, even if I was perfect, "my righteousness is as filthy rags." Isaiah 64:6 Romans 3:23, Romans 6:23 "For the wages of sin is death, but the gift of God is eternal life through Jesus Christ our Lord."
Hallelujah!
P.S. I know, my grand daughter is a star. Enjoy one more song from her. She was wearing her aunt's shirt that was too big.